Get Learned! Step 3 - Buildin' Blocks
BRUSHES
You should have Hammer open, so now select
File->New
from the menu bar. You should now see 4 big black rectangles, or
viewports
, labelled camera, top, front and side. To the right, you should see a panel that looks like this: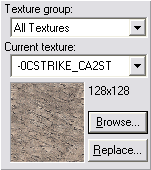 That panel shows what texture is currently selected. A
texture
is a picture that is plastered onto a wall, floor, ceiling, or
surface
in a 3d game. You've probably seen them before. You can choose a new texture by clicking the Browse button. It will display a list of all the textures you have loaded right now. (Remember opening the file 'halflife.wad'? That's where these textures came from.)
Once you have selected a texture that makes your heart filled with gladness, click the button on the left that looks like this:

This is the
brush creation tool
. A
brush
is a 3d chunk of space defined by a few surfaces. For example, a cube is defined by 6 surfaces or planes. Move your mouse pointer over the viewport labelled 'top'. It should look like a plus with a fuzzy rectangle. Now
click and drag
on the grid in the top viewport to draw a rectangle. When you let go of the drag, the rectangle should turn white and 8 little white
handles
should appear around it. You can use the handles to resize your rectangle.
KEY POINT: Look at the other viewpoints. Your rectangle is actually a 3d box! Isn't that rad? What you need to get used to is looking at a 3d object from different 2d views. If you can master that, you'll be able to create just about anything you like!
Now notice that you can resize your box in all 3 viewports. This may not seem important now, but when you are building a complex shape later, this is super-duper useful. Also try
clicking inside your box and dragging it
. This is how you move it around.
Now hit
Enter
on your keyboard. Your box should have turned blue or green, meaning it
actually exists
now. Before it was just a plan. You can
click on your box
, or brush, like I said earlier, and it will turn red. In Hammer, when something is red, that means it is
selected
. You can resize and move selected brushes just like you did before.
Now glue on your wings because it's time to get to the next page, Sally!
Next page >>
<< Previous page